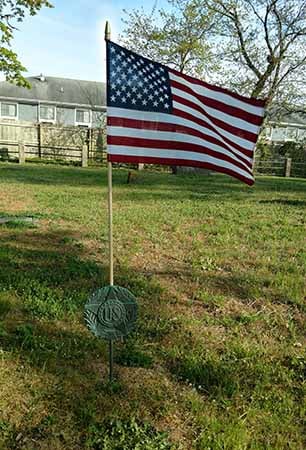 "Green sods are all their monuments; and yet it tells a nobler history than pillared piles, or the eternal pyramids." - James Gates Percival

My earliest memories of Memorial Day are watching my father march in a parade with the American Legion. He looked very sharp in his uniform.

When I was a teenager, I marched in Memorial Day parades as a member of two drum corps – the Immaculate Conception Queensmen and the Middlesex County Guardsmen. I remember how silent it became when we entered the cemeteries – just the beat of a single bass drum to keep the entire corps in step.

After my father died, I began marching on Memorial Day again. This time, as a member of the American Legion – a long circle completed.

This year will be different. No parades. No large gatherings at monuments. No readings of veterans' names at cemeteries.

Although I moved away 18 months ago, my original plans were to head back to the town of Southborough. The veterans were going to dedicate a memorial bench in honor of my late friend, John Wilson. While he didn't want anything special to honor him while he was alive, it's important to provide a lasting tribute to a life of service.

I've been thinking a lot about my father and John during the last few months, and what they might say about the pandemic. Both men put self-sacrifice and service to others at the forefront of their lives. I try and imagine hearing their unique voices giving me guidance and advice.

The images that occupy my mind most are about the end of their lives. Both men understood that they were dying. In their last weeks, they were able to visit with their friends and families. John was surrounded by his family in his final moments. I was able to sit by my father's bed on the last night, so he wasn't alone at the end.

The insidiousness of the COVID-19 virus extends beyond the physical dangers. It also prevents people from being with their loved ones as they fight for their lives. People aren't able to hold their hands or say goodbye. Their loss is magnified as even more is taken away.

Memorial Day is set aside to honor the men and women who died while serving in the military. We've extended it to honor all veterans who have died – in combat, in training, or in the years after they turned in their uniforms.

This year, we should also take time to remember the families they left behind. Parents who lost their sons and daughters. Siblings who lost their brothers and sisters. Spouses who lost their husbands and wives. And children who lost their parents.

We may not be able to gather this year, but we can set aside a moment of reflection. To recall those that have died. To provide solace to those that are still with us.