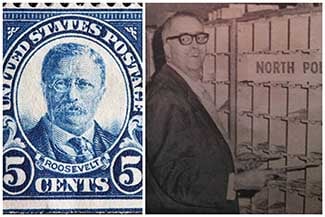 "As you get older it is harder to have heroes, but it is sort of necessary." – Ernest Hemingway

The 26th President of the United States, Theodore Roosevelt, was born on October 27, 1858. When he was only 19, he lost his North Star, when his father died unexpectedly. Roosevelt went on to be a prolific writer, war hero politician, and world adventurer. He was also the father to six children and died at only 60 years old. He became my boyhood hero when I read a library book about him, and now there are 29 different books about him in my office.

Another great man was born on October 27, although 66 years after Roosevelt, in 1924. He too lost his father at an early age. He served in World War II, and became a prolific reader, volunteer and public servant. He was the father to 10 children and lived to the age of 88. He was the man that brought me to the public library and encouraged me to read books about Roosevelt. He was my other boyhood hero, Bill Fallon – my father.

In 1996, I was interviewing for a job at State Street Bank in Boston. After several rounds of meeting with Human Resources, my potential boss, and a host of others, the final interview was set with Tom Cataldo, the Executive Vice President of Global Real Estate. He was responsible for buildings and services in 10 countries. I was a little nervous.

After some of the standard questions, Tom said, "I want you to plan a business lunch with you, me and any two people you want to invite. They can be anyone, living or dead. Who are the other two people?"

I replied without hesitation – "Theodore Roosevelt and my father."

Tom asked me to explain why. I related the boyhood-into-adulthood hero worship of Roosevelt. I even admitted to wanting to be President of the United States, and that it wasn't until my late 20s that I realized that would never happen. The stories Roosevelt might share at lunch would keep the entire table entertained.

Why my father? Because I knew that he could talk with anyone. He'd be respectful to the late president, but he'd also ask him questions. In my mind, I could hear them comparing stories of their children – the willful ones who drove them to distraction, and the quiet ones who they remained concerned about, even as adults.

Tom must have liked the answer, because I got the job. More importantly, I have a scene in my head that I've played more than once. My father, Theodore Roosevelt and I sharing lunch together. Tall tales, solemn stories and heavy laughter complete the menu.

Since my father's death, I play that scene often. For brief moments, my two heroes are alive. I visualize the advice these men would offer. I imagine what they thought I'd done well, and where I needed to do better.

Who are your heroes and why? What would it be like if your heroes met over lunch? What would they order? What would the discussion be like? What would you ask?

Taking a moment to have a conversation – even an imaginary one – with someone you admire is an effective way to evaluate yourself and your current course of action. Our heroes can continue to inspire and motivate us, even when they're no longer around.