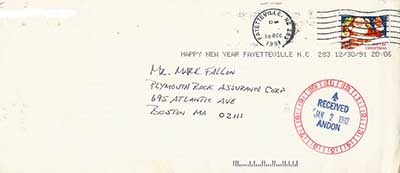 "Consider the postage stamp: its usefulness consists in the ability to stick to one thing till it gets there." – Josh Billings

One day in 1981, a friend of mine asked me to cover for her for a few days at her part-time job. Little did I know that that favor would be the beginning of a life-long love affair……………………………with mail.

I had quite a bit of exposure to mail before that day. My father, Bill, worked for over 20 years as a clerk in the post office in my hometown of Woburn. When he retired, my mom, Paula, got a job working as a bookkeeper at a mailing and fulfillment company. And one of her jobs was ordering postage stamps.

Growing up, I didn't see mail being an important part of my future. After graduating from high school, I started at Suffolk University as a History major, with a plan to go on to law school and become a lawyer. In fact, that was the reason I was happy to do that favor for my friend. She was a clerk at a law firm in downtown Boston. What a terrific opportunity!

Well, those "few days" turned into four years with that law firm. And after four years, I'd learned two things. One, there was no way that I was ever going to make it as a lawyer. And two, I really liked the parts of my job that dealt with the copiers, the printers, and most of all, the mail.

About this time, I learned about something else I really liked. In 1983, I enlisted in the National Guard. There, I found that I really liked being a soldier. So, after Basic Training, I joined ROTC at Suffolk, went to Airborne School, and volunteered to go on active duty as an Infantry officer when I finished graduate school.

After a few years of having too much fun being a soldier, I returned to Massachusetts and reentered civilian life. I bounced from job to job, until I returned to my calling and went to work as the mailroom supervisor at Plymouth Rock Assurance in Boston.

Within a few years, I became involved in professional mailing associations, like the Postal Customer Council of Greater Boston and the New England Chapter of the Mail Systems Management Association. I attended and spoke at local and national mailing conferences, including the National Postal Forum. I even achieved my certification as a professional mailing and distribution systems manager – a CMDSM. I was in "mail heaven."

In April 2001, twenty years after that fateful favor, I started The Berkshire Company, a management consulting firm focused on print and mail. Now, I spend my days helping companies with their mail problems, giving talks on mailing issues, and even writing a blog on the mailing industry. A perfect life!

We often don't realize that we're at the beginning of our stories until years later. Seemingly inconsequential decisions may be turning points that lead to unseen paths. A favor for a friend can turn into a career. A letter from a mentor can provide direction when lost. Joining a group may produce important friendships.

Take a minute to look back. What was the moment that started you on the road to where you are today?

Now, think about where you want to be tomorrow. Do you know how you'll get there?

It may be time to start a new story.

P.S. – if you'd like to share your story, but don't like email, or texting, or can't reach me on the phone – please mail me a letter. I just love letters.