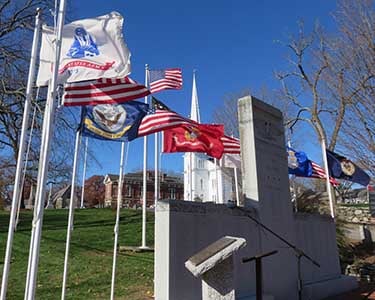 "You cannot dream yourself into a character: you must hammer and forge yourself into one." - Henry David Thoreau

I was having breakfast with some fellow veterans on Saturday morning. The previous week, we had shared emails about some modifications to the memorial in the center of town. After several rounds of messages, it was clear an in-person discussion would be better. Plus, who doesn't like getting together for breakfast?

Over coffee, eggs, omelets and toast, we swapped stories and laughs. Eventually, we got to the subject of the memorial. I remarked to one person, "Your idea on the bench is perfect."

He immediately corrected me by saying, "Thanks, but that wasn't my idea, that was Vanessa's."

I told him that I appreciate him being a man of honor. He responded, "Ya can't take credit for someone else's idea! Just ain't right."

The word "honor" appears a lot in public:
Honor thy mother and father.
Honor the veterans.
Honor the flag.
Honor the country.
In many cases, each of those simple statements can lead to intense debate, which often devolve into arguments. Certain actions aren't acceptable, irrespective of the intent. Families and friendships have been irreparably split over the concept of honor.

There are several definitions of "honor" in the Merriam-Webster Dictionary, one being "a keen sense of ethical conduct: integrity". We express honor not just in our words, but in our conduct. And not just in the actions we share in public or promote on social media, but what we do every day.

It's easier to do the right thing when people are watching. We recognize that others will judge us by our actions, and will be careful about our behavior. The true sign of integrity is what we do when we're alone. When there's no one who will "give us credit" for our actions. When we're the only one who knows the truth.

There's no "time off" from being honorable. The little things we do every day add up to the type of person we become. It may be how we treat someone in need, how we respect the wishes of others, or the effort we put into the tasks we promised to complete. Or giving credit for the work or ideas that belong to someone else.