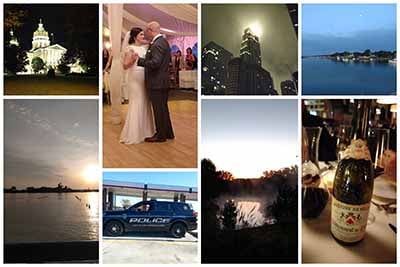 "Art is not what you see, but what you make others see." – Edgar Degas

I've spent 7 of the last 8 weeks on the road. My travels took me from coast to coast and north to south – Atlantic Ocean to Pacific Ocean, Lake Michigan to Lake of the Ozarks, and crossing the Mississippi 4 times in a car and 8 times in a plane. Along the way, I visited 10 states plus the District of Columbia.

Food is always an important part of my journeys. Breakfast in a tucked away diner. Dinners in steakhouses and other restaurants accompanied with wine. Lunch at a hotdog stand. A wedding at a castle. Breaking bread at the family table on a friend's farm.

Of course, the most important aspect of any visit is the people who shared their time with me. Clients and associates who know that our business relationship is only the story of how we met. Brand new clients who transformed into brand new friends. My large, extended family. A classmate from 40 years ago, who's more brother than friend.

As I sit at home this week, the scenes and tastes and voices become a kaleidoscope in my mind. Sunsets overlap, dishes combine, and conversations collide. Somehow the experiences weave themselves together to form a story – the story of my life.

For thousands of years, we've created tapestries to hang in halls. First, yarn is dyed into many colors and then brought to large looms. Using great skill, the weavers magically transform the individual threads into complex scenes.

Many tapestries record stories. From gods and monsters of ancient myths to historical events that shaped the world. Individual quests and massive military campaigns are brought to life. Unlike paintings, the canvas itself is the piece of art.

The threads for our personal tapestries aren't materials, but experiences. Often, we don't realize the colors we're gathering as we move from place to place, meal to meal, and person to person. Subconsciously, we weave the disparate strands together. However, we're focused on the line in front of us, not aware of what we're actually creating.

That's why we need to set aside a moment to step back and look at the combined impact of our individual actions. To see the picture we're creating at our looms. And the story we're telling – the story of our lives.