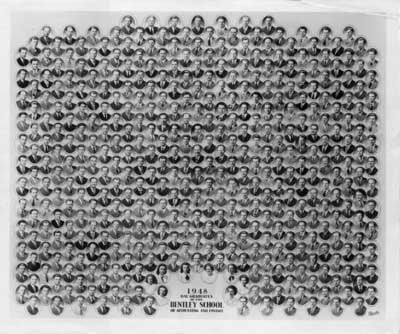 "You cannot get through a single day without having an impact on the world around you. What you do makes a difference, and you have to decide what kind of difference you want to make." – Jane Goodall

Back in February, I wrote a blog post about my mother entitled, Take Heed of the Quiet Rebel. It was my annual tribute to my first teacher of life's little lessons. I included stories of her accomplishments, including getting a college degree in 1948. The example of her life remains a guidepost for how I live my own.

A few weeks ago, I received a comment from Liz Baccala on the post. It was the sort of connection only possible in the age of the internet:
"Hi Mark, what a touching post about your Mom! My grandmother turns 90 in a couple of weeks and my sister and I have been working on collecting some mementos as a gift. My grandfather, Leonard Collins, also graduated from Bentley School of Accounting in 1948. This may be a huge ask, but do you have that class photo you may be able to email me? Or perhaps just the close up of my grandfather? I would absolutely love to include that photo in my grandma's memory box! Thanks!"
In the blog post, I had included a photo of my mother's graduating class. I couldn't find her grandfather but sent it off anyway. It turns out he was part of the day division, and my mother attended night school, so it would be a different photo. Liz thanked me for the attempt and shared a copy of the graduation program for the entire class, including my mother and my aunt.

At first, I thought – well, I tried. Then I heard my mother's voice, "Certainly you must know someone that knows how to find the photograph for this nice young lady". If you knew my mother, that would be her challenge to me. She would never accept anything less than me trying my best.

I went to LinkedIn and searched for connections to Bentley University. It turns out the Deputy Director of Development went to the same high school (although he graduated many years after me). I sent him a message explaining my search. Less than a week later, I received a reply – with a link to download the photo of the Daytime 1948 Class!

With a happy heart, I forwarded it to Liz. Her thank you:
"Thank you so much! I am so appreciative of you reaching out to your contact and following up with me. I cannot wait to see my Grandmother's reaction!

It certainly is an amazing example of how technology can, not only aid in but, create connections that otherwise wouldn't exist!"
It's easy to see what's wrong in the world. Even easier when you discuss social media. And it's not wrong to be aware of the potential maliciousness around us.

It may take more effort, but we can see the positive. We can see the connections between 2 people who may have only passed each other at a graduation ceremony in 1948, bridge gaps over 70 years later. We can see how three strangers can come together to create a special moment for a grandmother's 90th birthday.

We can decide to make an impact – for good.