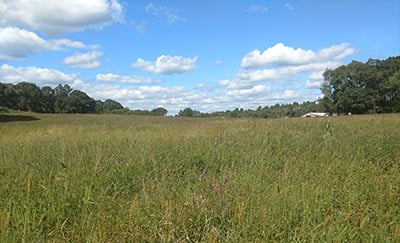 "The world is full of magic things, patiently waiting for our senses to grow sharper." – W.B. Yeats

It was a perfect September day. Warm sun on our shoulders, with a slight breeze cooling our faces. We sat on a bench enjoying an ice cream, a defiant act to the calendar's declaration that summer was over.

At first glance, the meadow just looked like an overgrown field. The longer we sat, we could see the butterflies roaming from one plant to another, performing the pollinating ballet. Following their flight, we could see the multitudes of distinct colors of the flowers – purples, yellows, browns and so many shades of green.

Unfortunately, I had neither the right camera nor the required skills to truly capture the beauty of the scene. And no photo would capture the scents and sounds that added to the moment. After 2 attempts, I put away my phone, and just sat. Still.

Over 35 years ago, in his classic book, Megatrends, John Naisbitt described the possibilities and pitfalls of the new "Information Age". He explained that the growing invasion of technology required a counterweight to ensure continued growth of human potential. He called this balance "High Tech/High Touch".

Humans are social animals. We need to be in contact with each other. Not just through text messages and social media posts, but physically connected. It's why we go to movies even though we have digital screens in our homes. It's why there's plenty of people in shopping malls even though we can order almost everything through our smartphones.

Naisbitt described the benefits of the connected world – even though he was writing before the creation of the World Wide Web and smartphones. The sharing of information could help speed up decision making and connect people around the globe. We would become citizens of a global village.

But our connectivity has turned into "hyper-connectivity". We're online all the time. Multiple apps bring us multiple feeds simultaneously. We naïvely think we can multi-task and focus our attention on everything, which means we're not focusing on anything. We fill every spare moment on our calendars, and if we unexpectedly find some downtime, we immediately open up another app to fill the space.

We've learned that being in nature is good for our physical and emotional well-being. In a previous post, I shared my own positive experience from slowing down and walking outside. In our fast-paced world, we need to slow down even more. To realize the full beauty and benefit from nature – we should stop. Sit. Look. Listen.

We need "High Tech/High Touch" for balance and to obtain our human potential. We also need "Fast Pace/Slow Pace" for balance to maintain our peace of mind.

Find a bench or chair near your favorite spot in nature. Meadow, forest or beach – it doesn't matter. Sit and look at the wonder and beauty around you. The longer you are present, the more your senses will become attuned to your surroundings. Enjoy a moment of silence and reflection.

Ice cream is optional.