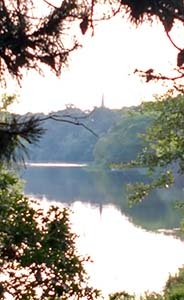 "If you see ten troubles coming down the road, you can be sure that nine will run into the ditch before they reach you." - Calvin Coolidge

In a world of uncertainty, many of us feel overwhelmed by the challenges around us – real or imagined. Will we have a job next month? Is the small repair on the house a symptom of a larger expense we can't afford? With so many personal and professional responsibilities filling up our calendar, is there room for ourselves?

The list goes on.

We do our best. At work, we demonstrate our skills and commitment. We budget our time and our money with an eye on the future. Anticipating disruptions, we make small adjustments to our daily schedules. We counter anxiety with action, establishing some sense of control.

Until….

Our manager informs us that we can either accept a new job or apply for a different position – with no guarantee we'll be selected. At our annual physical, our doctor informs us that there's something wrong that will require months of treatment. We answer the phone, only to learn that another voice of love has been silenced.

More than minor disruptions, these are life-changing events. Even when we think we're prepared, the reality is harsher than we anticipated. It's not just the shock of the moment, but the long, difficult road that lies ahead.

It's impossible to prepare for a specific unknown. We shouldn't fill our minds with worst-case disaster scenarios. However, we can take steps today to prepare for the challenges that lie ahead.

First – surround yourself with strong, loving people. With the help of others, every problem becomes easier to solve. We need to build up our team of supporters before we need them. We can start by being there for other people – providing them support in their time of need.

Next – take care of yourself now. So many people rely on you – children, parents, coworkers, family, friends and loved one. It's a good thing to be a strong, dependable person. Make sure that you take the time to refill your own reservoirs – physical and spiritual. You'll need that strength.

Lastly – look for the positive today – and every day. This isn't always easy, but is possible. When we make a conscious effort to look for the good, it will be found. Sometimes, it's as simple as the sunrise on a morning walk. In the best of times, it's the physical presence of someone who loves us unconditionally.

Collecting positive thoughts nurtures our spirit and builds up our reserves. We feel pain today, with the hope that some good – however small – will be present in the future. Maybe even tomorrow.

We don't know what will happen a year from now, a month from now, a day from now, even an hour from now. We can't live in fear of what may – or may not – happen. We can decide what we'll do at this moment, and how that will prepare us for the unknown challenges that the future will bring.