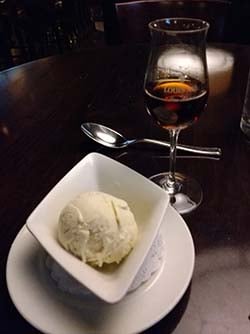 "So removed from daily life was the whole experience that when all was rotten to the core, a fine dinner could revive the spirits. If and when I had twenty dollars left to my name, I was going to spend it right here in an elegant hour that couldn't be hocked." – Katey Kontent in Rules of Civility by Amor Towles.

I love eating at restaurants. From 5-star steakhouses to local pubs to all-American diners. Perusing wine lists for the perfect pairing to the meal, gambling on a locally brewed beer, or stirring a thick milk shake with a long spoon. And most importantly, desserts – made-to-order souffle, crème brulee or lemon-meringue pie.

Of course, the food is just the backdrop for the most important ingredient – the people with whom I share the meal. Old friends, new friends and perfect strangers. Conversations, laughter and love complete the experience.

That's what a good meal is – an experience. A moment that becomes a memory. It may be a brief respite in a hectic week. Perhaps a remembrance that improves with each retelling of the night's events. Or maybe – like a first date – the foundation for a lifetime of future memories.

For different people, their favorite experiences involve different types of activities. It may be walking along a path taking photographs. Seeing the contrasts in the light and taking note of how the colors may blend or stand out. Breathing in the fresh air perfumed by the flowers' fragrances.

Or something completely different. Creating tracks in fresh snow while skiing down a mountain. Heading the other direction – following a path through the woods, past the timberline, eventually reaching the mountaintop. The choices are endless.

There's the communal aspect tied to other pursuits. Bowling leagues. Golf outings. Poker games. Scores are kept and wages made, with the true winnings shared by all.

There are people who love to collect things – cars, pottery, art. But physical possessions have many drawbacks. They provide a false sense of permanency even though they can be damaged, lost or stolen. They require you to buy something to store whatever you collect. And then there's the endless care – washing, polishing and dusting.

The memories from our experiences never rust. The impact from any one event can be felt across the years. The lobes in our brain don't need to be expanded to store more remembrances. Wherever we are, our ever-expanding collection is carried with us.