"Talk not of wasted affection. Affection never was wasted." – Henry Wadsworth Longfellow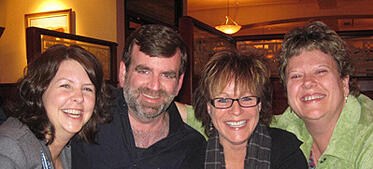 An interesting consequence of social media has been the number of photos that people share – pets, food, family, and of course, the "selfie". My favorite type of photo? Two or more people squeezing together to fit in the camera's frame. Heads tilted at unnatural angles. Arms entangled in hugs. Faces smushed together, with cheeks touching. And the most common feature – beautiful smiles.


It's natural to smile when being embraced. The warmth of affection nourishes our spirit. The touch of another person is a basic necessity to healthy living. Yet, for some reason, we're afraid to embrace each other. Especially in public.

In his book, Intimate Behaviors, Desmond Morris speculates that our fear of embracing is tied to "… a massive inhibition of our nonsexual body intimacies and this has applied to relationships with our parents and offspring (beware, Oedipus!), our siblings (beware, incest!), our close opposite-sex friends (beware, adultery!), and our many casual friends (beware, promiscuity!)."

The human skin is more than just a protective cover; it's our largest sensory organ. There are millions of receptors located all over our skin. Our sense of touch is an important part of our physical development and survival. It's logical that our sense of touch is equally important to our psychological development and survival.

Studies with premature babies show that tactile stimulation may improve weight gain. Babies deprived of their mother's touch are more likely to get sick. Psychologists actually prescribe hugs for patients suffering from depression.

My mother's prescription for a healthy life? At least 7 hugs a day.

Growing up, that was easy advice to follow. We had hugs in the morning, hugs when we went off to school, hugs when we returned home and hugs when we went to bed. Of course, sprinkled in between were hugs for no apparent reason.

My mother taught me that hugs weren't given or received. A true hug is something that's shared. Both people need to participate for a hug to have a real benefit. You get as much from giving a hug as you do from receiving one.

The hugs didn't stop when I got older. As I grew up, my mother would remind me that I still needed my daily hugs. I felt proud if she said one of my hugs was "a good hug". When I visit her today, I still look forward to my mother's hug when I walk through the door.

Hugging isn't just for mothers. One of my best friends from my days in the military is an Airborne-Ranger-Special Forces qualified soldier. He's a combat veteran who jumped from planes even when an illness required him to use a cane. He's one tough guy. Every time we see each other, we say hello with a hug.

Leo Buscaglia was professor at the University of Southern California and a noted author. Millions of people came to know Leo from his books and his appearances on public television. Leo told his audiences that many social problems, for individuals and society as a whole, are caused by lack of human contact. People need some manifestation of love. We need to be touched.

A man whose actions reflected his words, Buscaglia was known as "the hug doctor". After his lectures, people would get in line, not for autographs, but for hugs. Buscaglia would embrace each person with his trademark bear hug.

Hugging isn't off limits in the corporate world. However, you do have to be respectful of other people's attitudes. Many of my past bosses would never be described as "huggers". In fact, some never shook hands, never mind give out hugs.

I've had co-workers and employees who enjoyed and appreciated physical contact. We didn't hug to start every day or every meeting. But there were hugs to celebrate, to console, and to bid farewell. Hugs extended the relationship from the corporate to the personal.

A few years ago, I gave a client a book I thought she might enjoy. When we met a few weeks later to discuss the project, she entered the room with a radiant smile. The first words from her mouth were, "I loved the book you gave me. Is it unprofessional to hug your consultant?"

I'm sure you can guess my answer. That hug strengthened our relationship. I still had to work hard and deliver on the project. But we were no longer just consultant and client, we were now two people who connected on a personal level. That change contributed to us being successful on our project.

In the age of mobile devices, social media and instant messages, it seems that we're in contact with everyone all the time. But digital contact isn't physical contact, and there's more said in a silent hug than in thousands posts on Facebook or Twitter. We need a real "personal touch" to be successful.

Take my mother's advice, and get your daily dose of hugs.

PS – Happy Birthday, Mom!