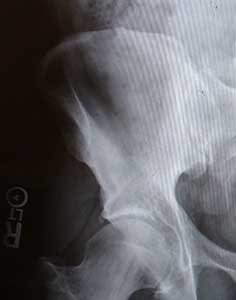 "If one dream should fall and break into a thousand pieces, never be afraid to pick one of those pieces up and begin again." – Flavia Weedn

30 years ago, this week, a doctor's pronouncement meant the end to a dream. This month, it happened again.

I enlisted in the Army National Guard in the summer of 1983 and joined my university's Reserve Officer Training Corps (ROTC) program that fall. I soon found that not only did I enjoy the military, but I was kind of good at it. Over the next few years, I completed one school after the other – Basic Training at Fort Dix, ROTC Advanced Camp at Fort Bragg, and Airborne School at Fort Benning. My efforts culminated in receiving a Regular Army Commission as an Infantry Officer.

My goal was to lead the best and toughest soldiers in the world. So, after the Infantry Officer Basic Course, I entered Ranger School in January 1988. One of the combat training jumps from a C-130 aircraft didn't go well. I tried to tough it out, but instead of graduating on the parade field, I was medevacked to Martin Army Community Hospital. I'll never forget the moment when the doctor told me that I couldn't return to Ranger School, and that I wouldn't be an Infantry Officer much longer.

I was devastated. After spending the last 5 years chasing a dream, I was faced with a tough reality. However, even in peacetime, the military is a dangerous occupation. There were other soldiers on my hospital floor that were in much worse shape than me. So, I changed myself – my dreams, my goals, my ideas about service, and my definition of success.

In 2007, I started running again. My initial goal was to just finish the Army 10-miler – a celebration on turning 45. Then my mentor suggested to try running a marathon. I soon found out that I not only enjoyed running long distances, but I was kind of good at it. Over the next decade, I completed 15 marathons and 3 ultramarathons – including the fabled Boston Marathon, the JFK 50-Miler and running over 50 miles on my 50th birthday. This fall, I was one of the lucky people to run in the inaugural Fenway Park Marathon.

I was getting slower but could still handle long distances. I started chasing a new dream and have been mapping out a route to run across Massachusetts – from the New York Border to Boston Harbor. However, during my last training cycle, I felt a pain in my groin. I thought it was a muscle pull and powered through it. The pains continued after the race, so I went to my doctor – an orthopedic surgeon who specializes in sports medicine. An x-ray showed a bone spur on my hip and some arthritis. Physical therapy and a cortisone injection didn't do much, so my doctor ordered an MRI and referred me to an associate who focuses on hips and arthritic joints.

In a setting that felt too familiar, I was in a hospital, sitting in front of a doctor, listening to a diagnosis that meant the end to my dreams. I need a total hip replacement. I was devastated. I've run my last mile.

Just as before, I looked around, and saw the other people waiting to see the doctor. Many had to use canes, walkers or wheelchairs. Their pain was far greater than mine. I'm still able to walk unassisted, and the prognosis is for me to have an active life after surgery. I'll just have to change myself again – my dreams, my goals, my ideas about fitness, and my definition of success.

Dreams are powerful tools that provide us inspiration and direction. Despite our best efforts, there may be dreams that remain unfulfilled. There's no "secret" or "power within" that guarantees we'll accomplish every goal or objective. Not everything is under our control, and not every effort results in success. There will be moments when our path suddenly reaches a dead end.

At those moments, it's natural to feel disappointment and sadness. We should allow ourselves the time to mourn the end of our ambitions. The loss, and the associated pain, are real. Tears are a genuine and acceptable response.

We don't have to bear the burden alone. We can reach out to friends and loved ones who'll provide support in our time of need. People who've been the light in our moments of darkness. We can let someone else be strong for us.

Then, we must act. With eyes wide open, and with the lessons we learned, we can start the search for a new path forward. A path that leads to dreams we haven't yet discovered.