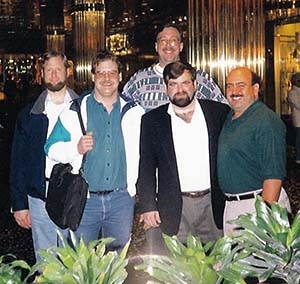 "Trust me friend a hundred years goes faster than you think. So don't blink." - Kenny Chesney (Chris Wallin and Casey Beathard - songwriters)
In 1992, I attended my first national mailing conference. I was intimidated by the attendees who were experienced managers, and clearly knew what they were doing. My introvert side won out, and I kept to myself as much as possible.

On the last day, at the last class, one of the older attendees introduced himself to me. He invited me to a reception, where he introduced me to even more people. The other managers welcomed me to their group. We exchanged business cards and phone numbers (no email back then), and promised to stay in touch.

Several people kept the promise, and a close circle of friends developed, including the people in the photo at the top of this post. Craig, Jeff, Jim, Paul and I were from different parts of the country, and conferences were the only time we'd see each other. Paul morphed into my mentor, encouraging me to become a presenter and making even more introductions to people who would shape my career.

In my mind, that was last year. Or just a few years ago. Certainly not 25 years ago. After all, we haven't changed that much. Have we?

This week, Paul and Jeff joined me at the National Postal Forum in Baltimore. Paul's retired, but still giving me advice. And Jeff's working with me at The Berkshire Company as a consultant. It was a great reunion, memorialized in a new group photo.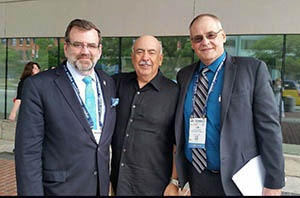 Even when viewed through my favorite pair of rose-colored glasses, the changes are obvious. We're now the senior managers responsible for guiding the younger attendees – including those who weren't born we first met. Where did the time go? And how white is my beard?

The number of hours in a day, and the number of days in the year are constant – and relative. The earth spins on its axis and revolves around the sun at steady rates. Unless we find a way to travel at the speed of light, we'll all age at the pace.

But Einstein's theory only dealt with the laws of physics – not our emotions. When we're stuck in a tough situation, the clock seems to slow down, even stop. Yet the moments we enjoy are over too quickly – gone in the blink of an eye.

There's a remedy to extending the joyful times – mindfulness. When you're experiencing something special, be present in the moment. Drive out distracting thoughts of future plans. Stop worrying about other problems for a few seconds. Don't try and capture your feelings in a post on social media, but capture them in your mind.

What's something special? Some are obvious – celebrations, milestone events and once-in-a-lifetime occurrences. Some sneak up on us – a quiet moment with the one we love, taking a chance on something new, or a dinner with dear friends. Every one of those could create a memory that we carry for the rest of our lives.

We must keep our eyes open. More importantly, we must keep our minds and hearts open and ready. Open to be aware of the extraordinary in our ordinary lives, and ready to be mindful of those moments.