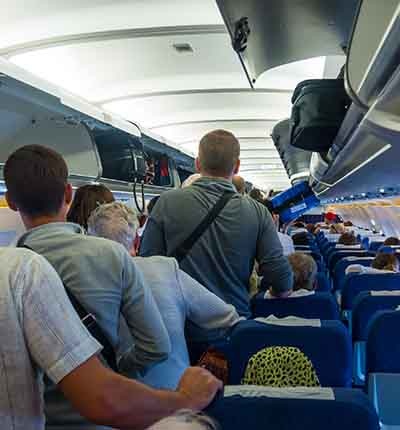 "You cannot do a kindness too soon, for you never know how soon it will be too late." – Ralph Waldo Emerson

The flight was packed. The already small seats felt even smaller. The overhead bins were jammed to maximum capacity. But we pulled away from the jetway on time.

Then came the announcement. Due to weather, all flights have been delayed at least 45 minutes. The pilot was going to move the plane close to the runway, so we could take off as soon as a slot opened up. An hour later, we left Logan Airport.

Air traffic control wasn't overreacting about the weather. It was one of the bumpiest flights in years. For their safety, the flight attendants remained in their seats for most of the flight. Beverage service was limited to cups of water distributed during the lapses of turbulence.

Landing later than scheduled, many people were anxious about connecting flights. Some were grabbing their own bags without thinking about the people behind them. Their attention was only forward, to the door that led them closer to their destination.

An older woman looked at her bag in the overhead – just out of her reach. Perhaps too heavy to lift on her own.

A gentleman asked her if she would like some help. She smiled, and he pulled out her bag, setting it right in front of her. He glanced up to see another person looking at the bag next to hers. So, he grabbed that one as well. Then he asked aloud whose bag was next to that.

Suddenly, the ripple effect. Other passengers started helping the person next to them. People began working together so everyone could get off quickly, and safely. Words of assistance and support helped displace the tension and uncertainty.

The impact of that act of kindness – that moment of doing good – shouldn't be underestimated. Even if there was no ripple effect. Even if it only helped one person.

Because it did help one person.

We don't know what the individual next to us is going through. They could be struggling with a difficult situation. They may be under a lot of stress. This could be one of the worst days of their lives. Your act of kindness may be an assuring light in the midst of darkness.

Alternatively, they may be having a wonderful day. They just received some great news. A loved one is meeting them for dinner. This could be one of the best days of their lives, and their encounter with you extended that feeling of happiness.

In each case, you only had a brief moment to act. A split-second to make a decision. If you decide to do nothing – the instant is gone. Perhaps forever.

In the very near future, you'll have the opportunity to do something good. It may be offering assistance to a person in need; or offering support to someone who needs to know that they're not alone; or just offering a smile to a stranger you'll never meet again.

It may seem like that your action is inconsequential in the big scheme of things. That there are more important issues facing us. That your decision has no real impact on the other person. That it has no real impact on you.

The opposite is true. Every time you do something good, it's important. It matters. It means something. It changes the situation for everyone involved. In a small way, it changes the world. It changes you.

Don't wait.

Do something good.

Right now.