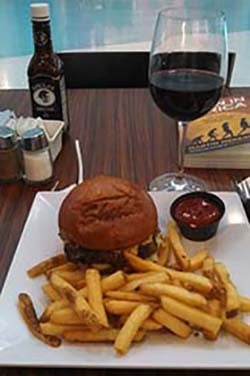 "All man's miseries derive from not being able to sit quietly in a room alone." – Blaise Pascal

Because of my job as a consultant, I spend a significant amount of time away from home. Business travel isn't glamorous, it isn't miserable, it's just part of my job. I've been a landscaper, a trash collector, a waiter and a soldier. Put into the proper perspective, life on the road isn't that bad.

I'm fortunate and have wonderful clients. We've shared dinners that are more like a gathering of friends than a corporate event. Exchanging stories, including some "tall tales", that bring smiles and laughter to the table. We create memories, not close business deals.

I also have great partners on my team. Sometimes, after a long day, I ditch my omnipresent tie, skip the fancy restaurant, and we head to a local pub or diner. There's no conversation about our clients, or even the industry. Instead, we talk about family, projects around the house and upcoming trips. Sometimes, we drift back in time, remembering the moments that forged our friendships.

There are still nights when I find myself dining alone. I may be lucky and meet some amazing strangers who share their stories. Often a book may be my companion of choice. Or I may decide to simply let my mind wander while I enjoy my meal. Some of my best writing occurs not with a pen or keyboard, but while there's a fork and knife in my hands.

As others have said, being alone isn't the same as being lonely. We should learn to be comfortable with ourselves. More importantly, we should learn to like ourselves. Not in an egotistical or selfish way, but in the same way our friends like us. In the same way as those we're closest to love us.

Being alone allows us time to reflect on many things. Relationships, family, and work. Past, present and future. The existential search for meaning and the mundane decisions on what shirt we'll wear tomorrow. Whatever ideas may come up that occupy our mind.

With no one to interrupt, our thoughts drift down different paths. We think in poetry and language and images that don't appear in everyday conversation. We play with alternative endings to events in the past and new possibilities for the future. We explore – with our subconscious as a guide.

For that to happen, we must make a conscious decision to be alone. Meals are normally communal, so eating by oneself provides a notable contrast. We know something's different. We know we're alone.

At the same time, a restaurant is a unique atmosphere. The display of the meal, taste of the food, or pouring of wine may evoke a new phrase to explain our thoughts and emotions. The discussions and chatter around us provide a background for our internal conversation. We have the opportunity to be alone in the safety of a crowd.