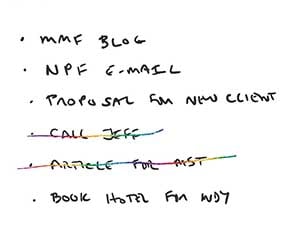 "Having once decided to achieve a certain task, achieve it at all costs of tedium and distaste. The gain in self confidence of having accomplished a tiresome labor is immense." - Thomas A. Bennett

I'm a man of many lists. Writing topics, speaking topics, long-range goals, short-term goals, prospect lists, customer lists and shopping lists. And of course, the daily "to-do" lists.

Most of the time, my lists are written in my omnipresent notebook. Other times, handy 4x6 cards that fit perfectly in a jacket pocket. On weekends, scraps of paper work just fine.

In addition to the need to get organized, there's also the great feeling that comes with crossing off each item as it's finished. Emails sent, calls made, and articles written. On a good day, the list is completed and there's nothing left to carry over to tomorrow.

We create similar tools for the clients of our consulting business. When we complete an operational review, we provide a prioritized spreadsheet that lists the recommended changes. The client can sort by subject, priority or goal date. They use the list as part of their weekly staff meetings to keep everyone on the same path.

A significant difference – instead of deleting a task as it's finished, the client moves it to a "Completed" spreadsheet, along with the finish date. Now the team has documented their accomplishments. This is a great tool for planning meetings, as it shows what can be achieved when working together on a problem.

When explaining this to a new client, I called the second spreadsheet a "Did-It" list. As soon as the words came out of my mouth, I thought, "I use 'to-do' lists every day. Why don't I use 'did-it' lists?"

We usually throw out our "to-do" lists when finished. We might feel good for a brief moment as we looked at all of the crossed-out tasks. But after a tough week, we forget on Friday what we finished on Monday. Looking at the challenges still remaining, we doubt our ability to accomplish our goals.

If only we had some evidence of our accomplishments. What if instead of throwing away our lists, we kept them, and transformed them into a record?

You don't have to re-write your lists, just keep them in a folder – complete with crossed out tasks. If you use a digital tool, copy and paste into a new document.

At the end of each week, pull out your "did-it" lists. Take a minute to review what you've finished – small tasks and significant efforts. Celebrate your achievements. Enjoy the feeling of success.

As you gear up for the next challenge, you can show yourself that you've already accomplished so much, and that you're ready to take on even more.