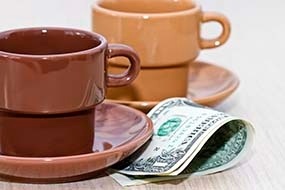 "You give but little when you give of your possessions. It is when you give of yourself that you truly give." – Kahlil Gibran

On Day One of the road trip, I was introduced to a great local diner. Reasonable prices, good service and most importantly, an endless cup of hot, black coffee. Looking around, you could sense this was where "the locals" hung out.

I had an 8:00am conference call Tuesday morning, so I arrived at the diner around 6:45. Sitting at the counter, I enjoyed a plate of eggs and ham, followed by a bowl of fruit. Read the daily news on my smartphone, plus caught up with some friends on social media.

My coffee cup was near empty, and it was 7:15, so I thought it was time to ask for the check. Just then, an elderly gentleman sat down in the chair next to me – passing the 3 available seats along the way. The waitress addressed him by name, taking his order for oatmeal. The coffee was poured without a spoken request.

He turned to me and said, "Good morning, how are you today?"

"Fine sir, and you?"

"Well, it's a beautiful day. I'll be meeting my friends here in a bit. My name's Marvin, what's yours?"

"Mark. Pleased to meet you, Marvin."

At that moment, I had a decision to make. There was still 45 minutes before the meeting, and it was only a 10-minute drive back to my room. I waved down the waitress for a refill on my coffee, turned to Marvin and asked, "So, are you from around here?"

I soon learned that Marvin was born in the town, graduated from high school, went to Kansas to attend college, and met a girl. He stayed in Kansas for "4 and a half decades" and moved back home 20 years ago. He pointed out that if you understood basic math, you would realize that he wasn't that young anymore.

Marvin talked about organizing a group of "kids" that graduated from high school with him, and that they got together regularly. I explained that I was visiting a high school friend myself, and that my dad was on his high school reunion committee until he passed away. That changed the conversation to our fathers, and how much we loved them.

We talked about how our fathers seem to know everyone in town and were "socialites". Then Marvin pointed out that he had turned out just like his father and enjoyed socializing with people. He looked around and commented that normally it would be more crowded. He'd left his house at the usual time and was surprised he didn't see his friends.

I briefly explained about my consulting business and how I help companies be more efficient. He asked how long I'd been in the industry and I answered, "3 and a half decades". That brought a smile, and he said, "Then I guess you know what you're doing."

While I was talking, several of his friends arrived. Some sat at the counter, while others chose tables. Marvin introduced me to each one, "This is Mark. He's visiting from Boston."

The counter started to fill up. It was getting closer to my 8:00 call. It was time to leave. I paid my bill, stood up, and shook Marvin's hand. He told me to enjoy my stay, and if I was around tomorrow morning, we could continue our conversation.

In the Information Age, we're connected to the world 24 hours a day, 7 days a week. Online calendars, Skype meetings and web conferencing fill up our schedules. No matter where we are, we're rushing to join a conversation on our phones, tablets or laptops. It feels like "right now" translates into "too late".

Truly connecting means slowing down. It's taking the time to be physically and mentally present for the person next to us. Creating the opportunity to listen to their story. Sparing a minute to learn that a kid from Merced, California and a kid from Woburn, Massachusetts have more in common than they realize.