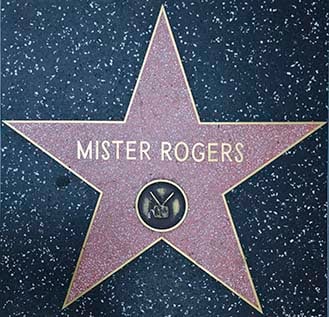 "I like you just the way you are." – Fred Rogers

I love action movies. I've seen Die Hard so many times, that I often quote the next line an actor is going to say before he says it. While director Christopher Nolan definitely captured the grittiness of Gotham City imagined by Bob Kane, his movies never would have been created without the imaginative Tim Burton's Batman of 1989. And no actor takes as many punches as Harrison Ford does, whether he's Indiana Jones, Jack Ryan or Dr. Richard Kimble.

So, it comes as no surprise that my two favorite movies of the last year were Won't You Be My Neighbor? and It's a Beautiful Day in the Neighborhood. The first is a documentary on Fred Rogers and his television show, Mister Rogers' Neighborhood; and the second is a feature film based on an article written about Fred Rogers in Esquire Magazine over 20 years ago. The article had the appropriate title, Can You Say… Hero?

These films touched me on so many levels. Reminiscing about staying at home from school when I was sick, propped up on my mother's bed watching the small black & white television set. My struggles with my father, our reconciliation, and his death. The brightness of my mother's eyes, even as she slipped away from us.

I watched the documentary on a flight, hiding my tears from my fellow passengers. The darkness of the movie theater provided cover last weekend, plus most of my fellow audience members were too busy wiping their own eyes to notice me. Yep, real action movie reactions.

Without giving away any spoilers, it's no surprise that Fred Rogers was "Mister Rogers". A good and decent and kind man, who wanted other people to be good and decent and kind to each other. He believed in the goodness of humanity, and that the power of that goodness lies within each of us.

Since the release of both films, there's been a celebration of the life and lessons of Fred Rogers. (There's also been some nasty criticism, but I'm choosing to ignore those people.) The celebration goes beyond nostalgia, because Rogers stood out even when we were children. In a world of abundance and instant gratification, we recognize that we're missing something. Or someone.

We're all looking for another hero – not someone with superpowers or an arsenal of weapons – but someone who will be a role model for how we should treat one another. Someone who'll transcend age, gender, race and religion. Someone who'll remind us to accept our fears, to look for the helpers, and let us know that they'll be there again tomorrow.

Of course, we know the answer that Fred Rogers might provide. That each of us has the opportunity to be that role model. We can choose to be good to one another. We can become the hero for the person who feels unseen, or judged, or lonely. We can be the helpers that others look to for inspiration.

We can decide to like the people that enter our lives – just the way they are.