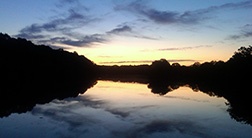 "Unexpected kindness is the most powerful, least costly, and most underrated agent of human change." – Bob Kerrey

There seems to be an abundance of sorrow and unease in the world recently.

The suicides of prominent celebrities dominated the headlines for days. One didn't have to be a fan to be impacted. Their deaths were a reminder that none of us will ever know the pain that others face daily.

Closer to home, my cousin's family was rocked when a life ended so soon after it began. Disease and cancer don't discriminate, attacking without warning. Despite tremendous advances in science and medicine, too often we're powerless to save the ones we love.

Dear friends are seeing their careers upended – not by their own actions, but by questionable decisions by senior management. Uncertainty is heightened by the conflict of loyalty to their coworkers and the need to protect themselves. The destination of their new path may not be clear, yet they take the next step forward.

That's just in my small sphere of friends and family. There's even more unpublished, unknown, and unspoken heartache and anguish in the world.

How do we respond?

By being kind.

We may not be politicians with the ability to change policy, or scientists and doctors who may uncover the next amazing cure. We are part of families and communities, with the ability to impact the lives of others. The quality we all share – and can share with those around us – is kindness.

Kindness can take many forms. Phoning a friend, especially if you haven't spoken for a while. Helping a neighbor with a household chore or yardwork. Being polite to the clerk behind the counter or register. Small actions, that can have a ripple effect beyond our expectations.

It's just as important to be aware of how we treat those closest to us. It's easy – too easy – to take for granted the people to whom we look for support. We must be mindful, considerate, and thankful to the people who provide us comfort and strength. We can all benefit from someone else's kindheartedness.

Whatever our relationship, we never really know the struggles of the person in front of us. We also need to recognize that we may not be able to solve their problems or take away their pain. However, we do have the opportunity to impact what they experience at this moment, at this interaction between two people.

We can start a new dialogue, show a new path, and share a new feeling.

We can be kind.


PS – This Sunday is Father's Day. Writing this blog reminded me of the little lesson my father taught me about kindness – which I shared in the post: Do A Good Deed.