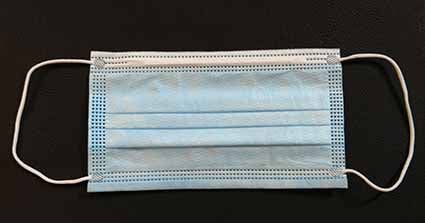 To help stop the spread of COVID-19, we've been asked to adjust our lives. Limiting physical contact, keeping 6-feet apart when possible, and wearing masks. For different people, the changes represent distinct levels of difficulty.

Some people may want to point out that our parents (or grandparents) had it more difficult during the Great Depression and World War II. Others will hold up soldiers as examples to follow for toughness. Still others will hold up medical professionals as proof that anyone who complains are whiners.

My parents remain an inspiration for me. The actions of fellow veterans amaze me. I owe my health to the medical profession.

I still have empathy for people who are struggling with the new restrictions.

A recent client visit meant wearing a mask for 4 hours straight. This was a first for me since a military training exercise over 30 years ago. When I was 30 years younger. This new experience instilled even more respect for the people who are wearing masks all day – from hospitals to the postal service to the local grocery store.

It also helped me appreciate how hard the restrictions can be. If you're a person who thrives on being around other people, separation can increase anxiety. No physical contact can increase feelings of isolation and loneliness. Claustrophobia makes wearing something on your face difficult.

But we stay home. We keep our distances in public places. And we wear our masks. It may not be easy, but it's the right thing to do.

Encountering people with masks makes me focus on their eyes. I try to pick up signals of what they might be thinking. It isn't always easy.

Except when they're smiling.

Some eyes open wide when the person smiles. Others crinkle. A good friend squints, especially when laughing.

In every case – their eyes shine. Like a candle in darkness, their smiling eyes lighten up the moment. An ordinary encounter is transformed into something special. We smile back, our mood adjusted. Our day just got a little better.

This made me think about my own facial expressions. What were other people seeing when they looked in my eyes? What type of moment was I creating? How was I impacting the other person's mood?

I'm going to make an effort to smile more behind my mask. Maybe it won't make a difference. But maybe it will – for one person – for one moment.

It's worth the effort.