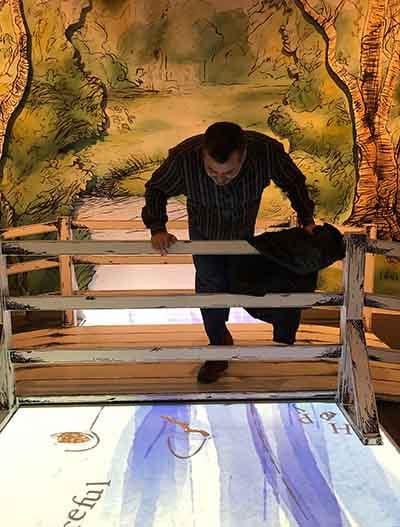 "Some people care too much. I think it's called love." ― A.A. Milne, Winnie-the-Pooh

It started with a visit to the Museum of Fine Arts to see their special exhibition – "Winnie the Pooh: Exploring a Classic". It was a weekday evening, but there were plenty of people in line to enjoy the displays of original letters, drawings and early editions of the books that introduced the world to Christopher Robin, Pooh, and their captivating cohorts.

The ages of attendees spanned the generations. Not only were there people my age, but people old enough to be my parents, or children, or grandchildren. Different languages and accents could be heard sharing laughs and smiles in front of the displays. Even crusty old men took a moment to play Poohsticks on the bridge – just as they have for over 90 years.

The museum visit was followed by the surprise gift of a book. In "The Best Bear in All the World", several authors shared some "untold stories" that take place in the Hundred Acre Wood. Then I watched "Christopher Robin" – a movie about what might have happened if Pooh visited Christopher after he grew up and stopped making time to play. A situation many of us unhappily share.

Memories flooded my brain. My mother reading the Pooh books out loud. The way she would change her voice for each of the characters. On my 5th birthday, receiving a stuffed Winnie the Pooh bear, and dancing around the living room with it. The first time seeing Winnie on the big screen, with Sterling Holloway providing the voice we all hear when we think of the bear.

I decided to sit with those memories for a while. Enjoying the thought of being a young boy whose plans never went much further than the next few hours. My parents introducing me to the wonderful worlds inside books. Having no fear or self-consciousness when expressing joy and love. It was a wonderful time.

Memories provide us strength. They remind us that love is an action verb. That the carefree expression of joy should be celebrated. That imagination is important and must be replenished on a regular basis. That even very serious people need to take time to play.

It's a good thing to visit the past now and again. To be reminded of the events that shaped us, even though we didn't know it at the time. To embrace the warmth and comfort that we felt as a child. Or a teenager. Or a young adult. Or last year.

We can only visit, not live in the past. We have to return to the present. Because it's already today, which was yesterday's tomorrow. And today's always my favorite day.