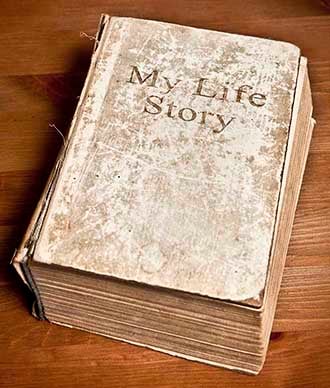 "The life of the dead is placed in the memory of the living." - Marcus Tullius Cicero

A winter evening, sharing the warmth of home and the warmth of friendship. Through mutual agreement, there was no talk of politics or current affairs. Instead, we took turns telling stories – stories of the recent past, mutual history and distant memories.

Recollections of experiences, or at least of how we remember the experiences. As time passes, the way we remember things change. We're impacted by what we've learned since the original event. Certain colors fade while others become even more vibrant. What was once trivial is now recognized as a significant moment.

When talking about our loved ones who have died, the remembrances become even more important. Through memories, we're able to blur the boundaries between life and death. We can no longer talk directly with the people we've lost, yet we're able to hear their voices and feel their love when we share their story.

We're told to "live in the moment". However, that "moment" achieves its true strength when it becomes a memory. When we reflect on how the event impacted us, moved us, changed us. Of course, we can't remember something until after it occurs. That's the dilemma that faces us every day – using the past in the present to shape our tomorrow.

Celebrating the past isn't the same as living in the past. We can't go back because the arrow of time moves only in one direction. However, we also can't build a structure without a sturdy foundation. For our lives, the past is that base.

The memories we hold closest will either strengthen or weaken that foundation. We decide whether to add positivity or negativity to our day. That doesn't mean we should only focus on the happiest days in our lives. Often, the struggles and pain we experience lead to new strengths and insights. The most important lessons may be learned – and shared – through tears.

Not every day brings a special memory. Many times, we act and react without much thought. While not automatons, we pass through our days using routines to guide us – breakfast, work, dinner and back to bed. Nothing extraordinary occurs, whether by chance or on purpose.

Which makes the special moments even more important. The events that shape our lives, in big ways and small. The experiences that become memories, and then stories, that we share.

We don't have to wait for the something to happen, we can elect to act. We can decide to create a memory through our actions. The best opportunities are when we're with other people, and we can bring a smile to their face or make a lasting impression on their heart. The choice is ours.

When you wake up tomorrow, today will be "yesterday". What will you remember?