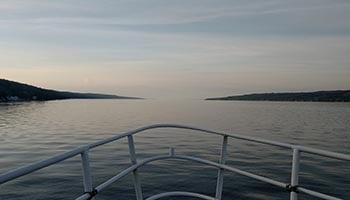 "A gentleman is one who never hurts anyone's feelings unintentionally." - Oscar Wilde

A trip to the grocery store. Work responsibilities and schedules. Conversations with friends. Keeping close to family and loved ones.

With no part of our lives untouched, we've been forced to abandon many routines and rituals. The impact of the smallest decisions may carry serious implications. We have to weigh the potential consequences of our actions. Before running the simplest of errands, we must ask, "Why?" and "What might happen?"

Normally this type of questioning is reserved for life-changing actions – taking a new job, buying a house, getting married. But today, any physical contact may be life-changing. Anytime we leave the house, we need to know the intent of our actions.

This sudden change of thinking may be stressful. The additional structure restricts our freedom of movement. Limited choices seem unnatural, and the feeling of confinement may add to our anxiety. It will take time to adapt to the "new normal".

One way to reduce the stress – choose to go beyond acceptance and embrace the philosophy of examining our actions. All our actions. Take a look at our decisions and ask, "Why?" – "What's the purpose?" – "How might this impact others?"

Imagine taking this new approach in different areas of our lives.
Reading – Why have we selected this book? Should we be reading something else to advance our knowledge?


Television and streaming entertainment – Is this show worth our time? Are we watching something only because other people are watching?


Food and drink – What do our daily meals look like? Are we concerned about our nutrition and diet? Are we feeding an addiction that's holding us back?


Social media – What's our intent behind a post? Do we care if someone else finds it offensive or hateful? Are we intentionally trying to hurt someone's feelings?
There are no "right" answers to these questions. We may read a book or watch a show simply to be entertained. We might eat or drink something because we enjoy the taste. We might be expressing an important opinion and recognize that not everyone will agree with our point of view.

When we understand the reasons behind our actions, we give purpose to our lives. We're no longer just characters placed in a scene, but the authors of our lives. Lives that are defined by more than just monumental decisions, but by the actions we take every day.

The little steps forward. The little lessons learned. The next opportunities to create intent.