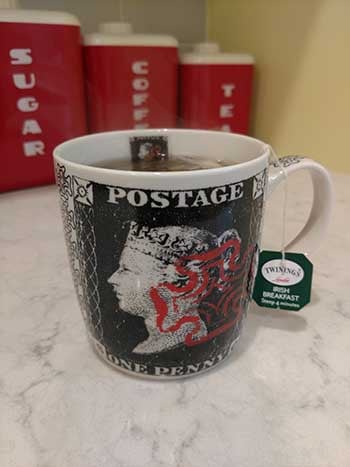 "The past is really almost as much a work of the imagination as the future." – Jessamyn West

Anyone who knows me knows my love of coffee. Whether it's from my favorite coffee shop, or Dunkin Donuts, or instant coffee heated over an open fire. No sugar or cream, just hot, black coffee. It's the perfect way to start the day or end a meal.

Then there are afternoons when my cravings take me elsewhere. To a cup of tea. Now in my favorite teacup, featuring a "Penny Black" stamp. Printed in England in 1840, the Penny Black was the first adhesive postage stamp.

Whenever I drink tea, the flavor pulls memories from hidden corners of my mind. My father and uncle having tea on Sunday afternoons after dinner. My mother making the tea, even though she preferred coffee. My mother-in-law enjoying her cup with a spot of honey. A visit to the Bath Postal Museum to see an actual Penny Black.

The gift of this cup.

No matter where I am, or what I'm doing, I take a moment to savor the memory. Sometimes, the "moment" can become minutes, or even hours. Reliving the first time I heard stories about my grandfather. The special teapot from Ireland. A certain red chair. Walking the same streets as Jane Austen.

I recognize the flaws in my remembrances. Things probably didn't happen exactly as they're being replayed. These are trips for enjoyment, and I tend to focus on the positive.

Of course, there are bad memories. There are plenty of scars – and they don't need any help getting my attention. So, when I get to choose, I choose what was best.

Most of our lives flash by without a thought. I've been alive for 58 years. That's 21,170 days. 508,080 hours. Or 30,484,800 minutes. Do I have 30 million memories?

Perhaps. But I can only tap a small sliver from the mine of my mind. Some thoughts force their way to the surface on their own, whether I want them to or not. Others, I get to shape. To form into a story. The story I tell myself of the past. The past I remember. The past I want to remember.

In the first volume of his autobiography, Elie Wiesel recounts an idyllic day in his village when he was a boy. He admits to the reader that it may not have actually happened that way. But that doesn't matter, that's how he remembers it.

We don't get to change the past. We must live with our mistakes and misdeeds. We can't deny the injuries and pain.

We can decide what memories will feed us. What stories will nourish our spirit. The stories of what happened. Or how we remember it happened.