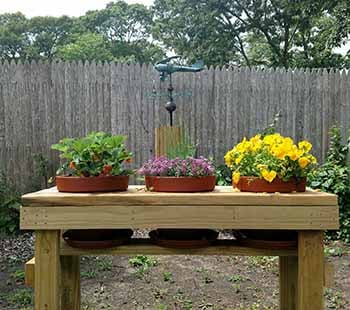 "Be happy for this moment. This moment is your life." – Omar Khayyam

Last fall, I began clearing out the overgrown shrubs and bushes around the house. The sandy soil made the digging easy, but it was a lot of hard work. It was also many trips to the local landfill and compost yard.

Faced with a clean slate, we started planning. We toured some local gardens to get ideas of what we might like. On daily walks, I photographed interesting landscape ideas for inspiration. I bought several books on gardening, including ones that had information on plants native to Cape Cod.

I learned which plants needed full sun, partial sun, partial shade and full shade. To create a sun map of our yard, I transferred our plot plan to Microsoft Visio. On a sunny day, I went out every 2 hours to check which spots had direct sun at different times. For some people, that may be going too far. But having a plan and a process makes work more enjoyable to me.

We knew we wanted colorful flowers and perhaps some fruits and vegetables. However, we weren't sure if we wanted a full garden. Our tastes may change, so we wanted as much flexibility as possible. Potted plants seemed like a good compromise.

To add a twist, I built a "pot bench". Constructed from pressure-treated lumber, the bench is sturdy enough to hold three 12-inch clay pots. It stands in the back yard, allowing views from the kitchen windows and the deck.

We went to the local garden center and picked out some annuals and perennials. We also bought a couple of strawberry plants. The white blossoms would be pretty, and who doesn't like fresh strawberries?

Of course, I've never grown anything edible before. Reading about growing fruits and vegetables is one thing, successfully growing strawberries is something entirely different. I tended the pots, making sure they were watered during dry weeks. And waited.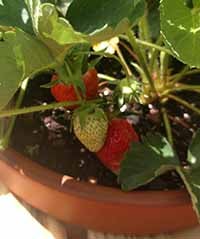 Last week, the waiting paid off. Two large strawberries had formed. Each day, they reddened and ripened. I worried that a curious squirrel or hungry bird may not be as patient as I was trying to be. But the animals stayed away, and on Saturday, we were able to pick our crop!

One strawberry a piece.

They tasted amazing. We savored our bounty like we hadn't had a strawberry in years. So much more flavor than what we bought in the supermarket. And they were grown in a pot in our backyard.

Then the moment was over. We laughed at our own enthusiasm. After all, it was just a strawberry. But it wasn't. It was a new memory. A memory that would bring a smile every time we talked about it.

It's easy to think that we know where and when we'll experience happiness. We make plans. We work hard. Our effort takes weeks, or months, or year. If we're lucky, we may have a brief moment of joy.

Our reward may be the smile on someone else's face. Or a hearty handshake from a friend. Or a silent hug that speaks volumes.

Or a single, sweet strawberry.

Recognize those moments when they occur and savor the memories.